Brand Timeline

Red Wing is founded by a shoe merchant named Charles H. Beckman in Red Wing, Minnesota. Beckman identifies a need for tough and durable footwear for local workers in industries like farming and mining.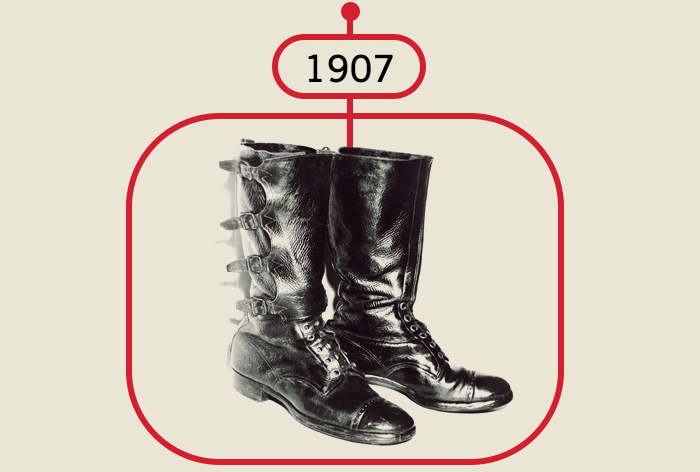 The company first produces a distinct 6" Moc Toe boot, often referred to as Red Wing's signature model. With a Moccasin toe and distinct stitching, this water repellent shoe is one of the most popular hard-wearing shoes of its time.


The original Red Wing production plant called 'Plant 1' is built on the corner of Main Street and Potter in Red Wing, Minnesota, where the company's leather shoes are cut and crafted by hand.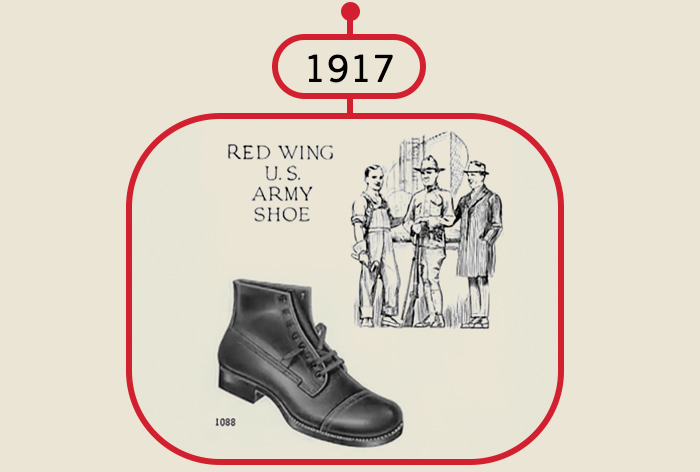 During the First World War, Red Wing starts to produce it's 1088 trench boot for the US Army. The boots are tough, durable and protect soldiers against cold and moisture in the trenches. They are so effective, they remain popular long after the end of the war.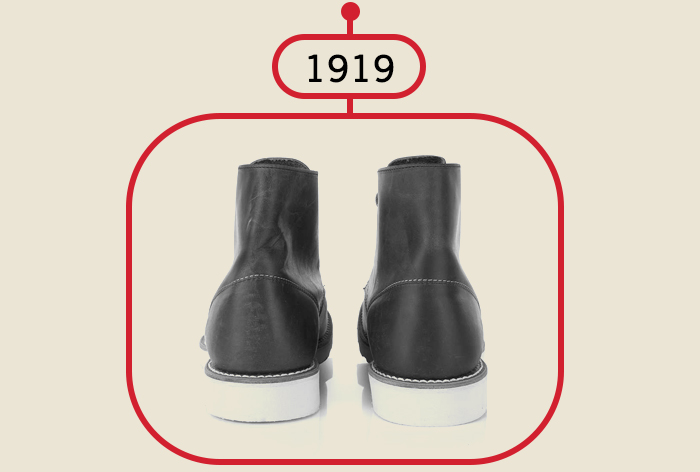 The 9111 model is first launched as a boot for farmers. It features a plain toe design and low tread sole to prevent mud and manure from sticking to the boot, and has since become one of Red Wing's most recognisable models.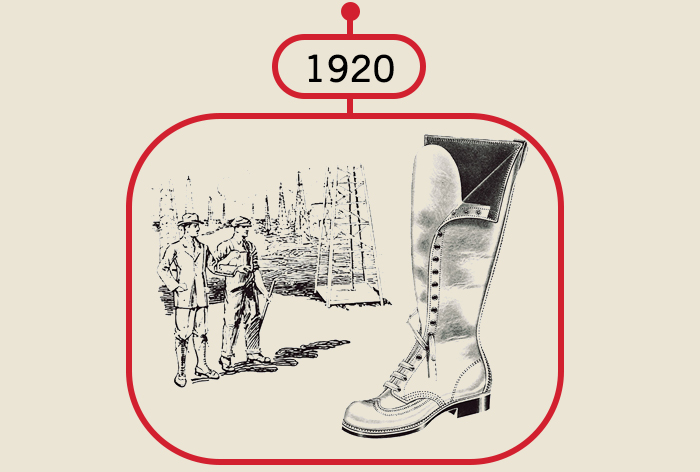 Red Wing launch specialist work boots known as Oil Kings. The boots are designed to meet the needs of oil field workers who require tough and durable footwear to withstand their demanding work environment.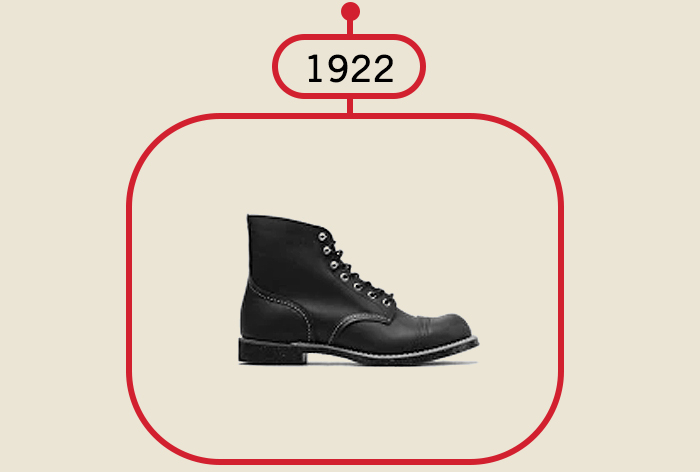 The iconic 8111 Iron Ranger model is launched. Originally designed for those working in Minnesota's iron ore mines in the Mesabi mountains, the boots were designed for year-round durability and have remained popular to the present day.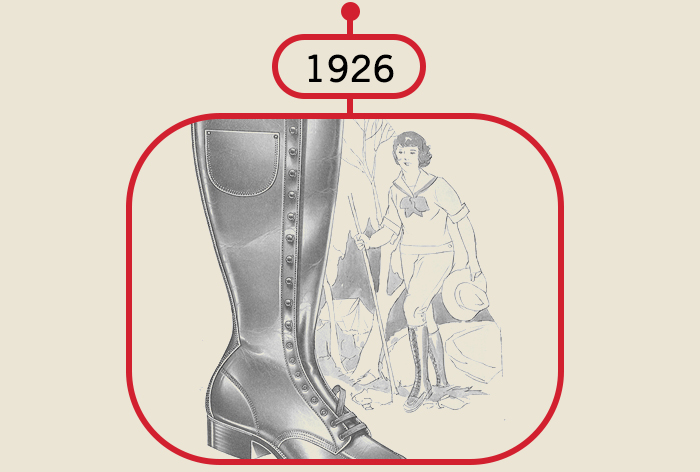 The Redwing Gloria is released and is the brand's first woman's boot. The boot was designed to be durable enough to be used in a range of outdoor activities such as camping and hunting.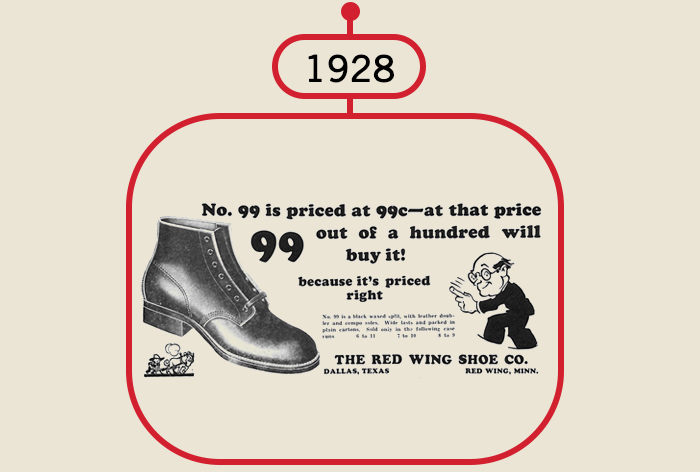 Red Wing launch their first rubber soled boots under the direction of new company President, J.R. Sweasy. The use of rubber soles enables Red Wing to reduce manufacturing costs and launch its 99 model boot. Priced at just 99 cents, the boot's low price point was designed to be affordable to those impacted by the great depression.


Red Wing release a durable, high-quality model called the Billy Boot. These stylish leather boots feature a side pocket that could easily fit a pocket knife in it, and quickly become one of the brand's biggest selling models.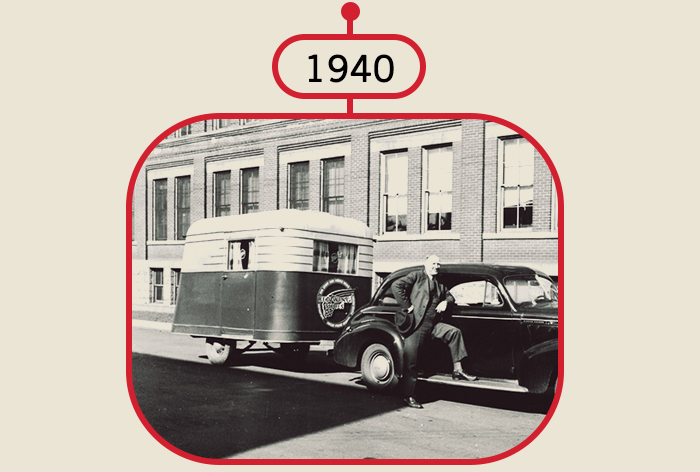 The Red Wing company introduce their mobile sales service. This new mobile service caters well for customers as it allows workers to buy their work shoes in the workplace. Red Wing continue with mobile shoe sales up until the early 1960s.
Red Wing launch their 854 hunting boots that become known as the 'Irish Setter' boots. These boots receive their name from the red russet leather that they are made with, which closely matches the colour of an Irish Setter hunting dog.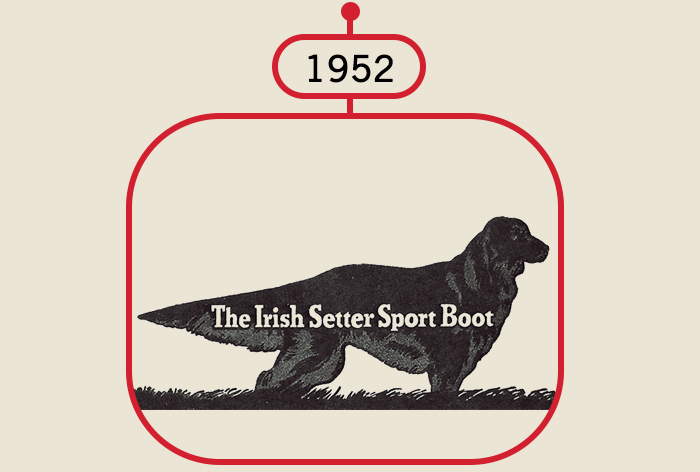 The very first Irish Setter logo is launched for the brand's 877 'Irish Setter' boot. Inspiration for the logo comes from an Irish Setter hunting dog known as 'Red Mike of Doxmoe'.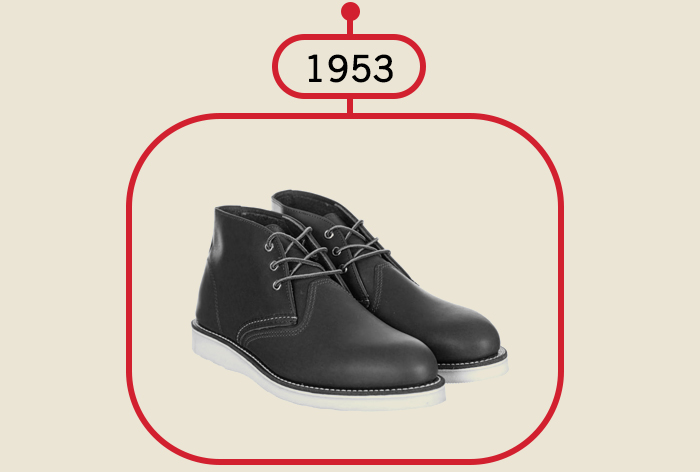 The 3140 Work Chukka boot is launched as a slightly lighter duty work boot than other Red Wing models at the time. It's designed for skilled workers such as carpenters and features a crepe sole.



As postmen regularly walked their routes in the 1950s, long hours on their feet called for hard-wearing and comfortable work shoes. Red Wing release their now well-known model 101 'Postman' Oxford shoes, designed for postal service employees.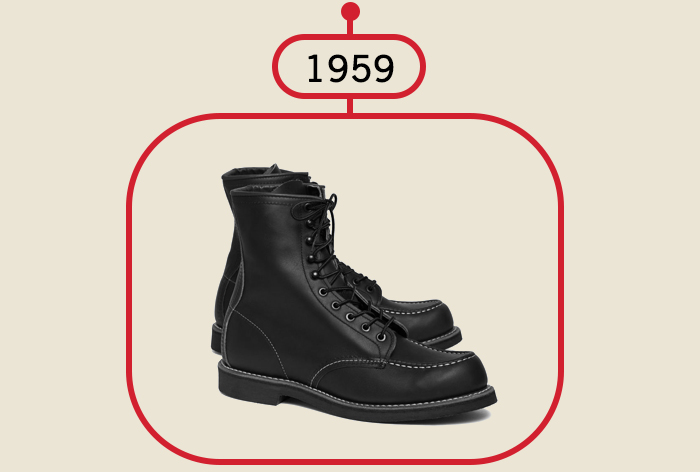 Red Wing launches its famous 214 model. Designed for factory workers, the 8-inch high boot features a moc toe design, soft sole for comfort and defined heel for ladder safety. Along with the later introduced 6-inch 213 model, the 200-series has become a staple in the brand's line-up.
Red Wing expand their manufacturing capacity by opening the 'Plant 2' production plant in Red Wing, Minnesota. In the same year, the company launches an experimental trail and hiking sub-brand called Vasque. By developing highly durable and comfortable trail boots over the coming years, Vasque are ideally positioned to capitalise on the hiking boom of the 80s and 90s.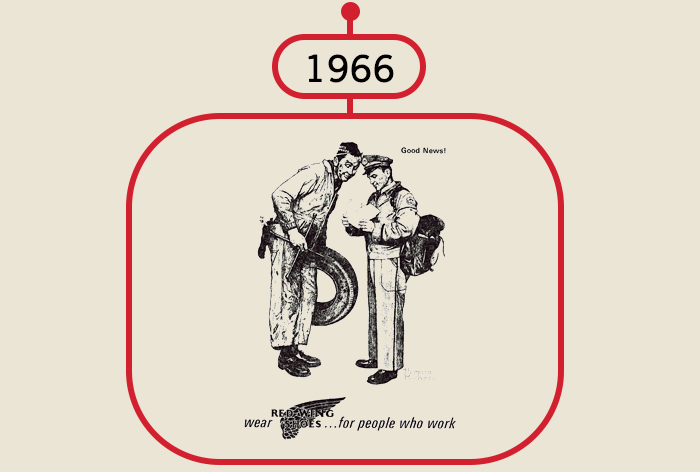 As the company continues to grow, Red Wing launches an ad campaign featuring artwork created by the famous American artist Norman Rockwell. The campaign depicts typical Red Wing customers such as those doing manual or physical jobs.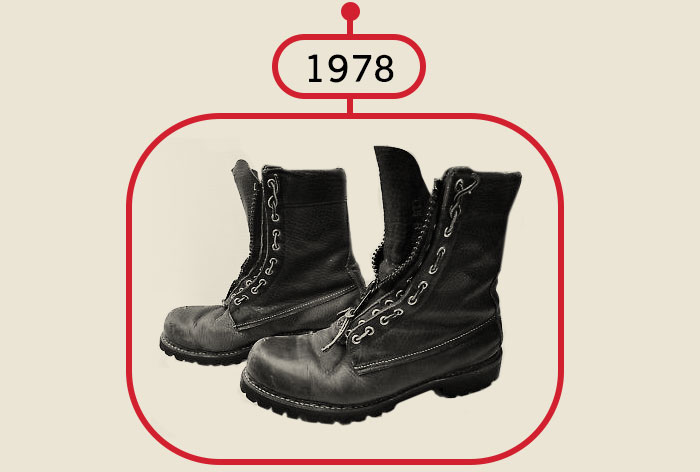 Red Wing launch their SuperSetter boots which feature a unique zip-closing system designed to shape around the wearer's shin and ankle for a high-quality, comfortable fit.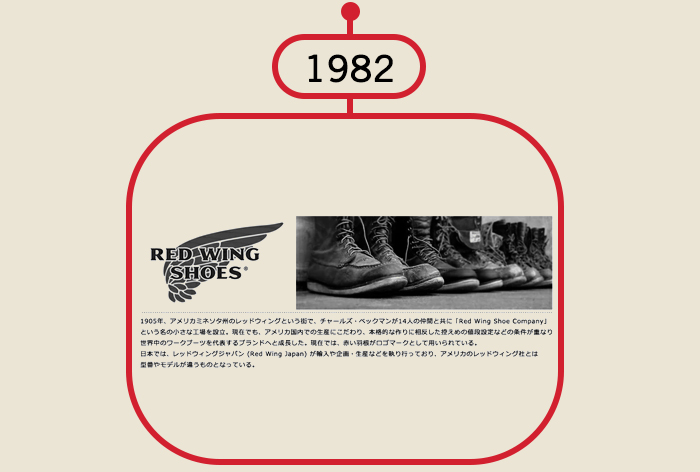 Red Wing products start being officially sold in Japan after growing in popularity over previous years. Originally positioned as workwear, sales really take off when the switch is made to promoting Red Wing as a lifestyle brand, tapping into the Japanese love for authentic Americana-influenced fashion and high quality craftsmanship.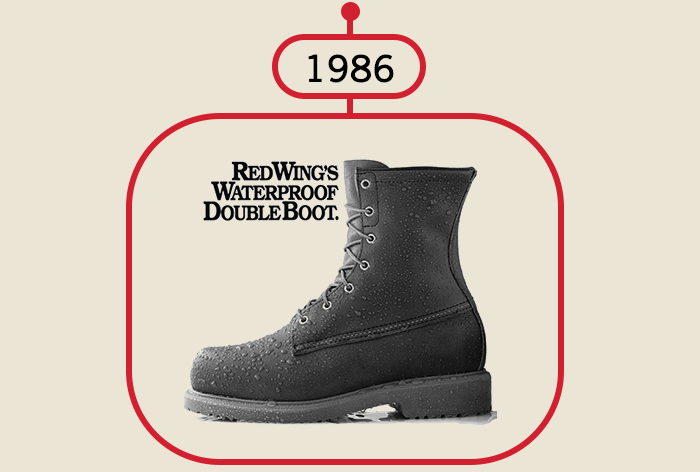 The 815 Double Boot model is launched. It features double-layered leather construction, designed to make the boot waterproof, and is the first boost to use this method of construction.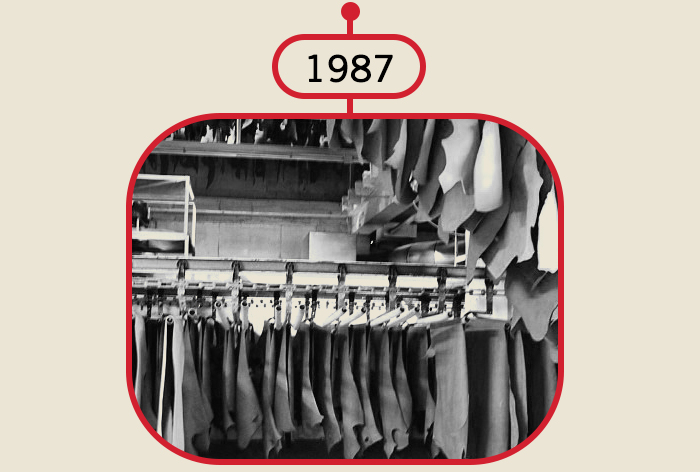 The S.B.Foot Tanning Company, also based in the town of Red Wing, Minnesota and founded in 1872, is acquired by The Red Wing Shoe Company. The tanning company is well-known for their oil-tanned leather that is both water and stain resistant, and provides Red Wing with access to high quality leather 'in-house'.


Irish Setter becomes its own brand and the range of hunting boots expands. As Irish Setter gains popularity, retailers want Red Wing's name to be re-associated with it to add authenticity. At this request, a new 'Irish Setter by Red Wing' logo is introduced in 2004.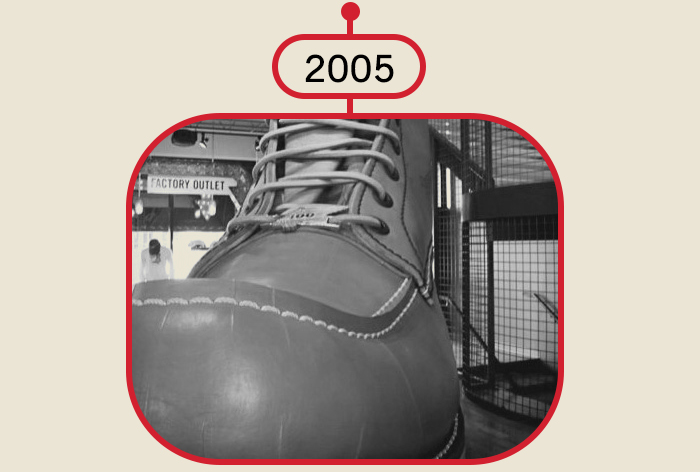 Red Wing reaches its 100th Anniversary and in honour of this milestone, a special 16 foot tall boot is built in a size 638. Weighing approximately 2,300 pounds, the boot qualifies for a Guinness World Record.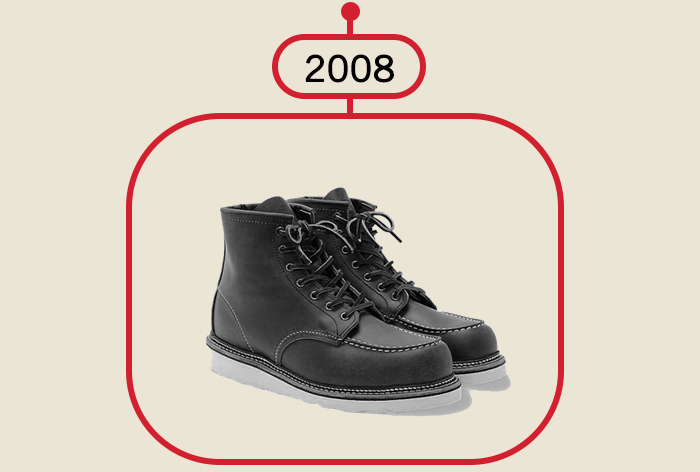 Red Wing launches its Heritage line for the lifestyle market which reproduces famous models from the brand's back catalogue along with models inspired by classic designs. Heritage products are made in Red Wing's USA factories from premium materials and with the same level of craftsmanship as the originals.
The Red Wing Handsewn collection launches, comprising of models made completely by hand in Maine, USA. The collection features classic Red Wing silhouettes, meticulously constructed in partnership with handmade footwear specialist Rancourt & Co.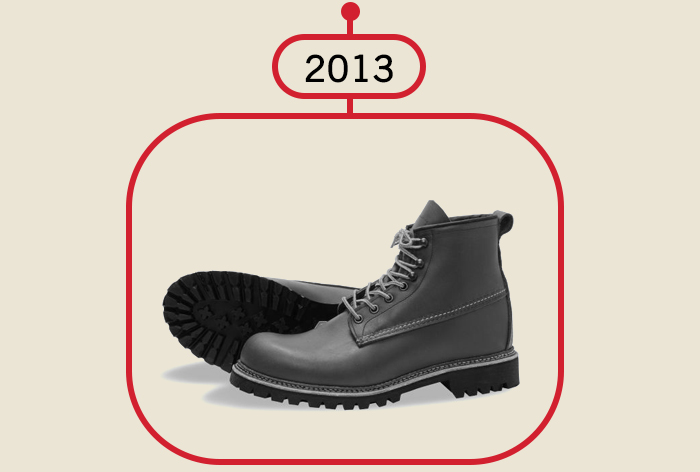 Red Wing releases the 2931 Ice Cutter, a boot designed for cold winter conditions. With high quality leather uppers, natural wool lining and high-grip sole, Ice Cutters prove popular with those dealing with snow and ice both in urban and country settings.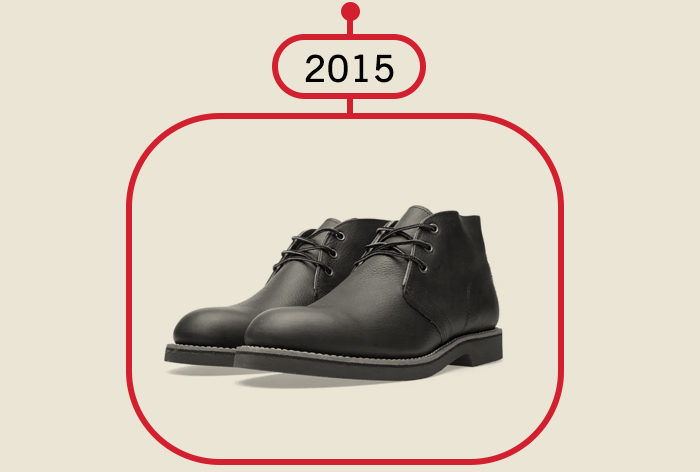 The popular 9215 foreman Chukka model is released in a range of colour options. Combining the classic Red Wing Chukka upper with a cushioned neoprene sole, the 9215 offers an authentic look with all day comfort.
The classic 9011 Beckman, named after Red Wing founder Charles Beckman is re-released in both Oxford and Chukka boot variations. In the same year, Red Wing launches its Weekender collection; a lighter and more casual range crafted to same standards as the brand's vintage work-inspired footwear.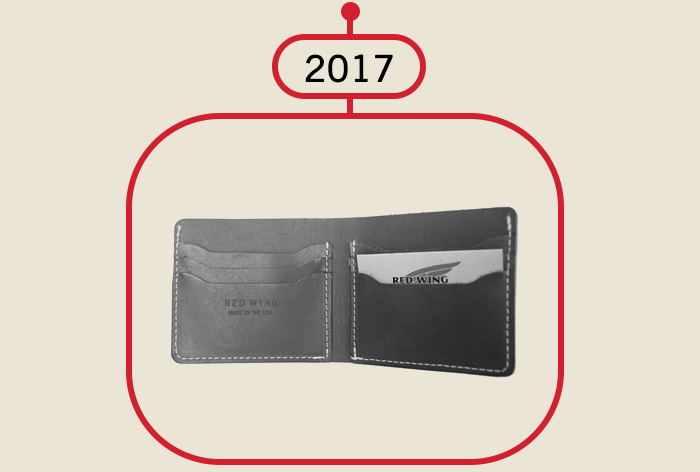 Red Wing Heritage introduces a range of high quality accessories including wallets and card holders which, like the Heritage range of boots and shoes, is made in the USA from premium tanned leather and designed around the concept of creating products that last a lifetime.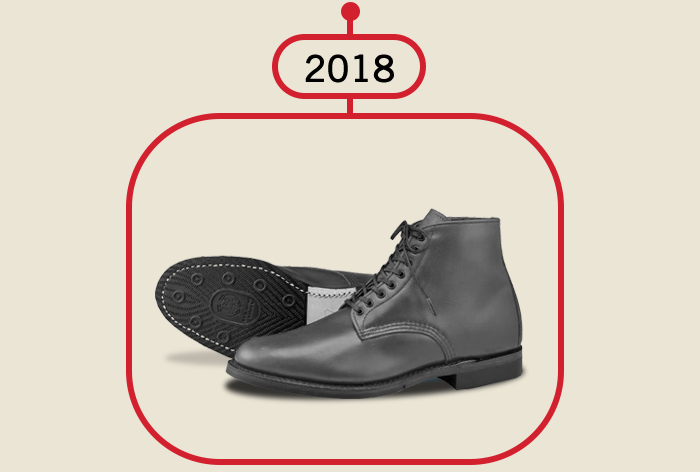 Red Wing release the 9435 Williston 6-inch boot. A high end boot designed for more dressed occasions, the Williston takes inspiration from Red Wing's more range of boots that were introduced in the 1920s-30s, and developed to combine formal styling with the brand's famous durability and comfort.



About Red Wing
From humble beginnings that started with a desire to create high quality and tough footwear for American workers, Red Wing have maintained the high standards and and level of craftsmanship for which they are famous for over 100 years, becoming one of the oldest footwear brands in the US.

Timeless designs that are built to last are at the core of Red Wing's Heritage models. And while improvements have been made over the years, it's easy to trace these iconic designs back to their roots. This is a brand steeped in heritage and authenticity, where quality is assured.

Shop Red Wing