Selvedge Denim:
a history
Denim is an enduring material that has truly stood the test of time.

Originally designed as workwear for miners, cattle ranchers, gold prospectors and people doing other tough jobs in the American Old West, denim jeans are now a staple in wardrobes across the world.

A hard wearing, stylish classic with a long history and rich heritage; as fashions and trends come and go, denim jeans endure as items of clothing that are much loved by people from all walks of life.

Not all denim is created equal however, and there can be many differences from one pair of jeans to the next. The type of denim used to make a pair of jeans can impact everything from the way they wear, crease and fade to their durability and ability to mold to the shape of their owner.

When looking for a great pair of jeans, one of the first things to consider after deciding on the type of fit you want is the type of denim that is used to produce the jeans.

There are various ways that denim can be produced, but as most denim connoisseurs will tell you, a truly authentic pair of jeans means a pair made from selvedge denim.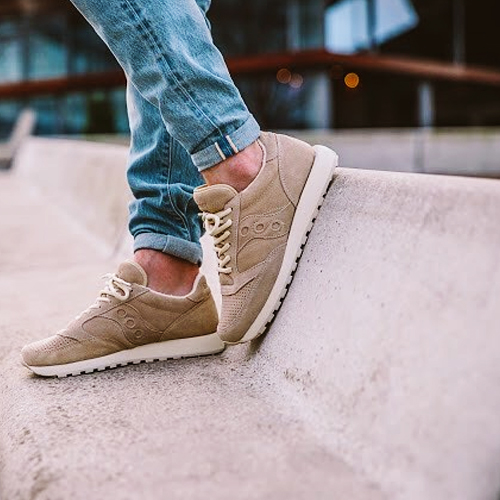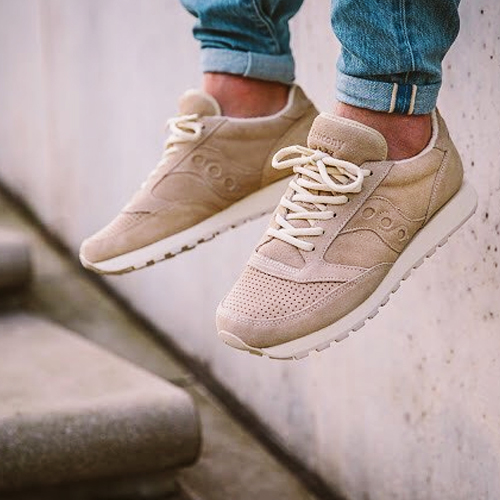 What Is Selvedge Denim?
Selvedge denim is a type of denim that is produced using shuttle looms, rather than the projectile looms that are used to produce much of the world's mass produced denim today.
?
Selvedge denim is a type of denim that is produced using shuttle looms, rather than the projectile looms that are used to produce much of the world's mass produced denim today.

While slower and less efficient in their operation, shuttle looms produce a fabric with a self-finished edge. This is where the word "selvedge" comes from and is the defining feature of selvedge jeans.

The finished edge of selvedge denim is instantly recognisable and often considered to be more aesthetically pleasing than non-selvedge denim. It can easily be identified by turning up the cuff of the jeans to view the outer leg seam, where the selvedge will be found.

It's not always the case that selvedge denim is better quality than non-selvedge denim. There are many great pairs of jeans made from non-selvedge denim by top denim brands. And with the explosion in demand for selvedge jeans over recent years, a number jeans made from of lower quality selvedge fabrics have become available.

However, due to the increased cost, time and effort required to produce selvedge fabric, selvedge jeans are usually considered to be the most desirable and as a general rule sit at the top end of most denim brands' collections.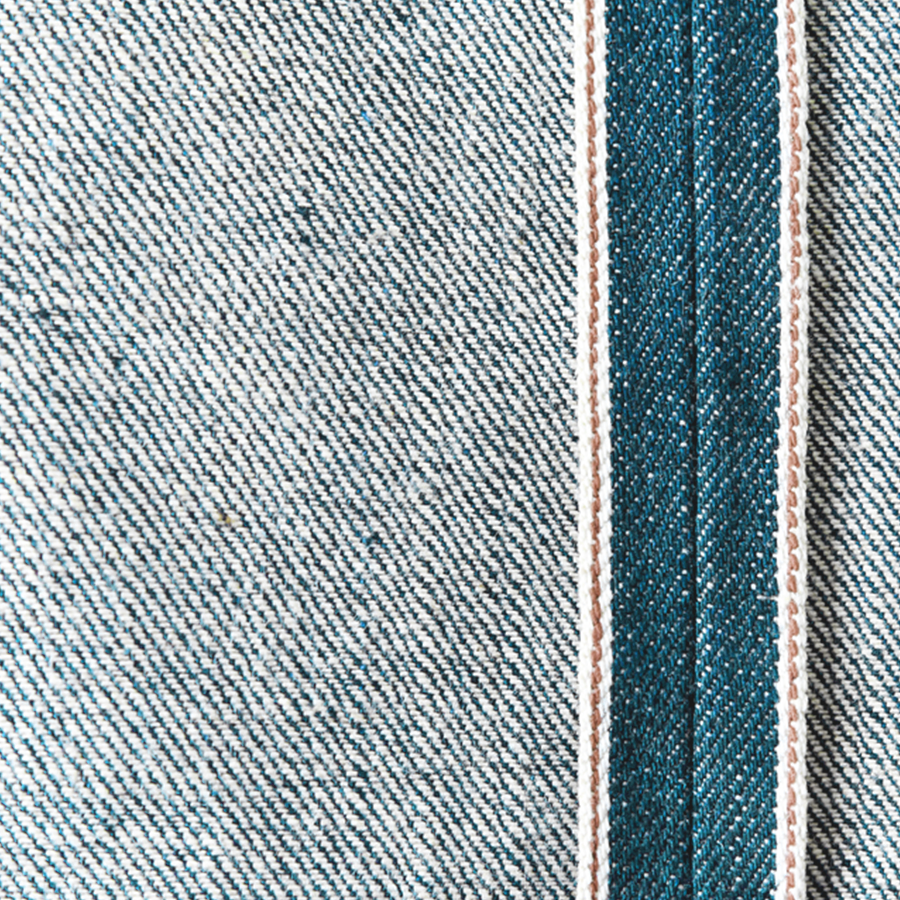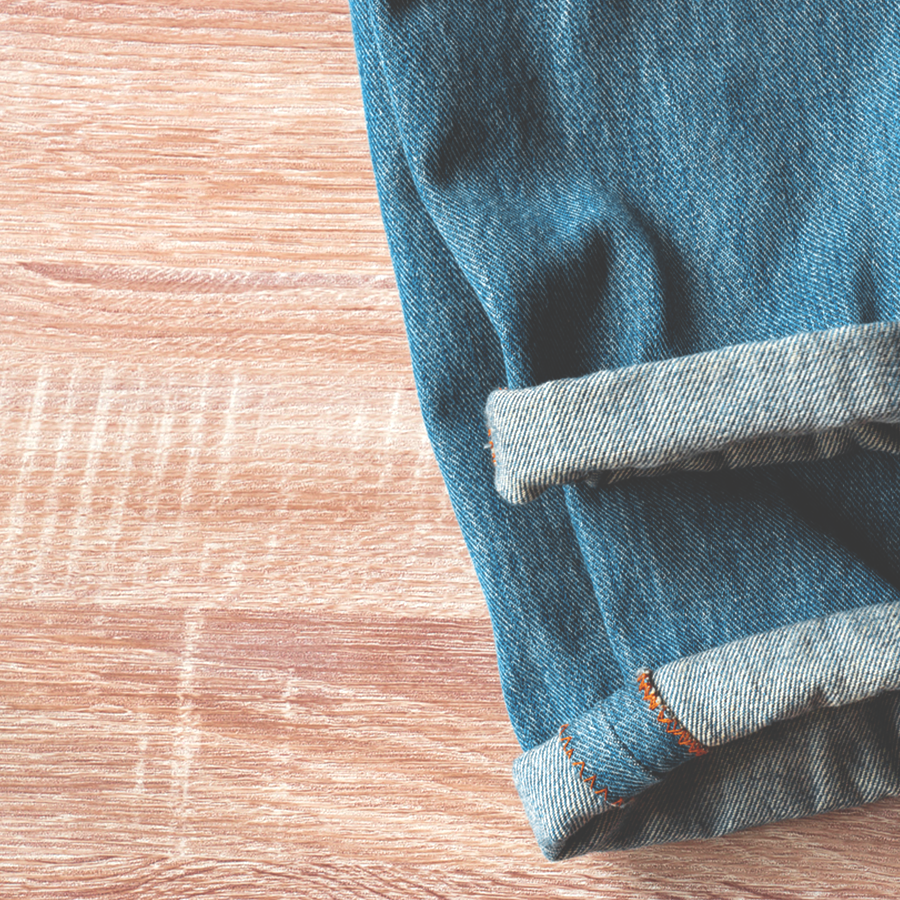 How Is Selvedge Denim Made?
Selvedge denim is produced using vintage style shuttle looms rather than projectile looms.
?But what exactly does this mean?
The Shuttle Loom
The shuttle loom works by holding the vertical warp yarns in place while a shuttle carries the horizontal weft yarns back and forth, moving between the vertical warp yarns. After each pass of the shuttle across the width of the yarns, the fabric is woven into tightly woven strips, with the weft producing a self-finished edge (selvedge) around each piece.

The self-finished edge of the denim produced by the shuttle passing back and forth through the warp yarns, turning back on itself when reaching the end, means that the fabric won't unravel or fray - unlike denim produced using projectile looms, which requires stitching to secure the edge.

Most mills use white or natural coloured fabric, usually cotton, for the warp yarns with a single coloured yarn at the edges. This gives selvedge denim the recognisable coloured line along the outer seam that is highly revered by denim connoisseurs.
The Projectile Loom
While not a new technology at the time it started to be used to manufacture denim, having been introduced in the 19th century, projectile looms provided the solution to the huge increase in demand for denim jeans after the 1950s. They are able to produce denim at a much faster rate than shuttle looms (over 1000 rows per minute vs. around 150 per minute for shuttle looms), and can also produce denim on a larger scale (shuttle looms used to make selvedge denim typically produce fabric no wider than 36 inches).

The projectile loom is similar to the shuttle loom in that it holds the warp yarns in place, however multiple small projectiles are used to weave the weft yarn between the warps. Once it reaches the edge of the loom, the projectile releases the weft and drops onto a conveyor belt below where it is delivered back to repeat the process. This differs from a shuttle loom, where the shuttle turns back on itself created a finished edge to the fabric. Jeans produced from denim woven on a projectile look require an overlock stitch to secure the edge and prevent the fabric from fraying. Turning up the cuff on a pair of non-selvedge jeans will reveal this stitched finish.

As US and global denim production began to shift towards the increased efficiency offered by projectile looms and away from shuttle looms, selvedge denim saw a significant decline in availability. Where once all denim was selvedge, by the 80s and 90s it represented only a small fraction of denim produced worldwide. However, there have always remained those who favour the higher quality of selvedge fabric, despite the higher cost.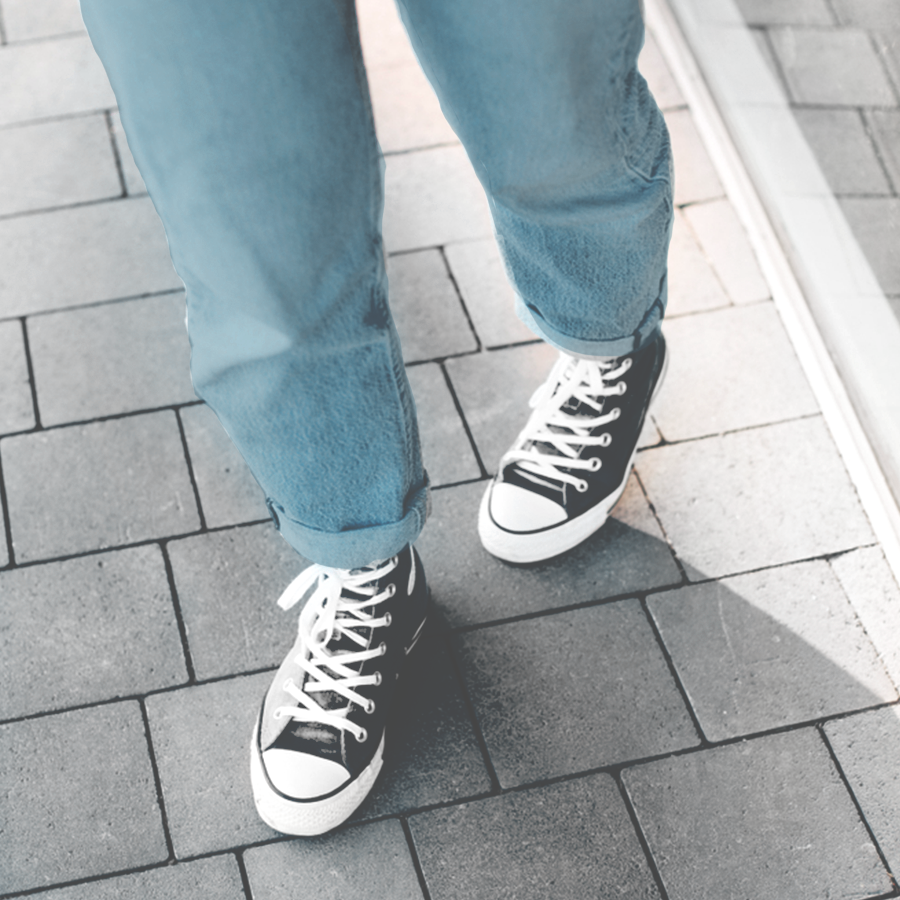 The History of Selvedge Denim
To understand the history of selvedge jeans we need to look into the history of denim itself.

The very first denim is believed to have been produced in 18th century France, in the city of Nîmes. The local weavers were initially attempting to copy an Italian corduroy-type material, however during the process ended up creating a new type of hard-wearing fabric called serge. The fabric became known as serge de Nîmes (serge from Nîmes) which was later shortened to 'denim'.

Roughly a century later, in 1851, a young man by the name of Levi Strauss landed in New York, having travelled from Bavaria to join his brother who was running a dry goods store in the city. A couple of years later, Levi headed west to join the gold rush that was taking place in California. He set up another branch of the family business in San Francisco; Levi Strauss & Co.
The First Denim Jeans
The first pair of denim jeans were created in 1873 when a taylor named Jacob W. Davis designed a hard wearing pair of work pants at the request of a customer. The fabric he used was denim that he purchased from Levi Strauss & Co. and the pants were strengthened with copper rivets.

The combination of hard wearing denim fabric and copper rivets - used to strengthen areas that were most commonly subjected to stress - produced pants that were significantly more durable than the lighter wool or cotton pants that were the norm at the time. For the men doing rigorous and physically demanding work in the 19th Century American west, these new 'waist overalls' as they were called at the time, were a revelation.

Word spread and before long Davis began to be overwhelmed with requests for this new type of hard wearing riveted denim pant. Davis and Strauss partnered up, with Levi Strauss able to source materials to mass produce the pants and sell the finished goods, and Jacob Davis holding the design patent and being employed by Levi Strauss & Co. to be in charge of manufacture.
Original Denim Production
As an item of workwear used by those doing demanding jobs in the Old West, such as miners and ranchers, originally all jeans were made from selvedge denim. In 1905 the famous Cone Mills White Oak denim plant in North carolina began supplying denim fabrics to US based manufacturers of jeans, including a deal agreed with Levi's in 1915 to be the exclusive supplier of the XX denim used in Levi 501s.
The manufacturing process of selvedge denim results in an attractive finished edge, in which different mills and brands were able to include a coloured thread. Cone Mills denim was typically produced with a red thread in the selvedge, becoming perhaps the most recognised colour used for selvedge denim, replicated to this day.
Denim Explodes Into The Mainstream
It was during the 1950s that demand for blue denim jeans truly exploded. While jeans are now one of the most widely worn items of clothing on the planet, during the 50s they were considered to be a rebellious choice and were quickly adopted by fashion conscious teenagers. Being worn by icons such as James Dean in movies like Rebel Without a Cause helped to make denim jeans cool, catapulting them from everyday workwear to the forefront of popular fashion, where they've remained ever since.
As demand for denim grew, manufacturers looked for ways to keep up supply. It was at this stage that projectile looms started to be used, producing non-selvedge denim.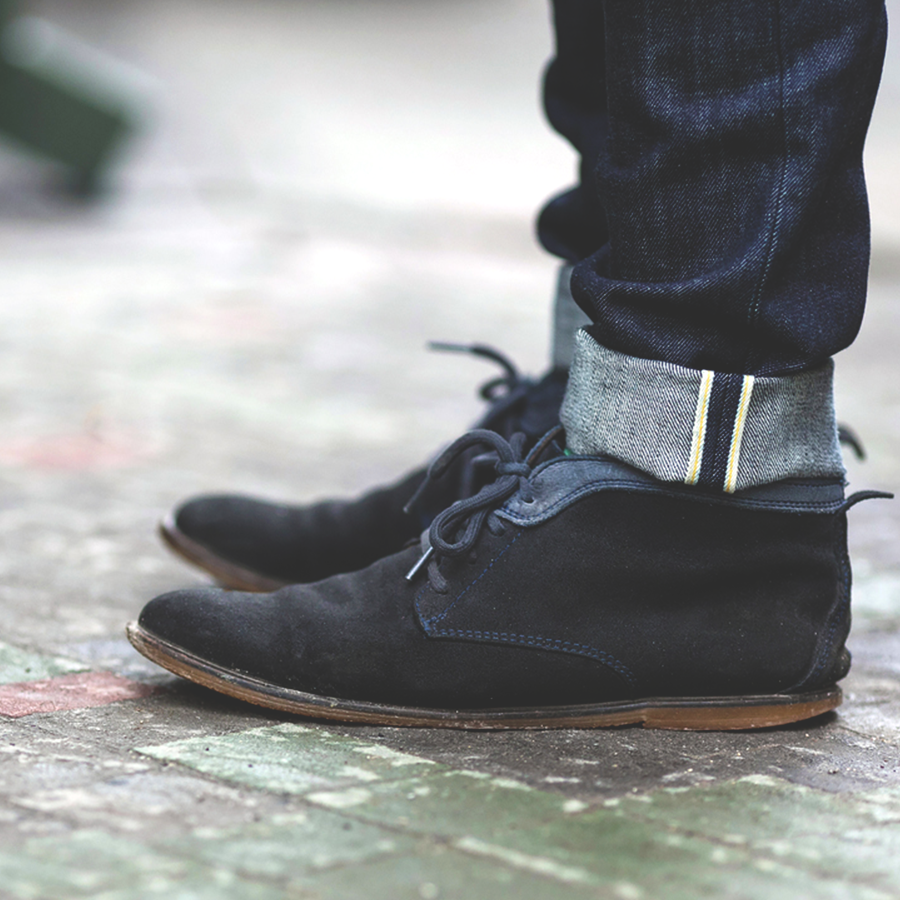 The Development of Indigo
When jeans were first developed by Jacob Davis and Levi Strauss, the familiar indigo blue that we associate with denim wasn't used; the workwear came in the natural off white colour of cotton.
A little later denim started to be dyed with natural indigo, which is an organic compound produced from the Indigofera plant. Indigo has been used throughout history to dye fabric and was once highly prized for the rich blue colours it produces.When jeans were first developed by Jacob Davis and Levi Strauss, the familiar indigo blue that we associate with denim wasn't used; the workwear came in the natural off white colour of cotton.

Originally, indigo jeans were created from cotton that had been dipped into the dying solution a number of times before it was woven into denim. The process of dying produces a darker colour denim the more times the cotton is 'dipped'. However, it's a time consuming and costly process; as demand for indigo denim increased, supply struggled to keep up.
In 1897, a German chemist named Adolf von Baeyer created synthetic indigo, which enabled garments to be produced in the same blue colour as those dyed using natural indigo, but much more quickly and cheaply.

These days the vast majority of denim is dyed using synthetic indigo. Development has continued over the years and modern synthetic dyes used are of very high quality. That being so, there remain some denim brands who continue to use cotton that has been hand dipped in natural indigo to produce their jeans. As a labour heavy process, this can add significant cost to the denim. However, where synthetic indigo dyes fabric by clinging to the surface, natural indigo penetrates into the core of the yarn. Over a number of years, this means that jeans dyed the traditional way can produce incredible fading effects.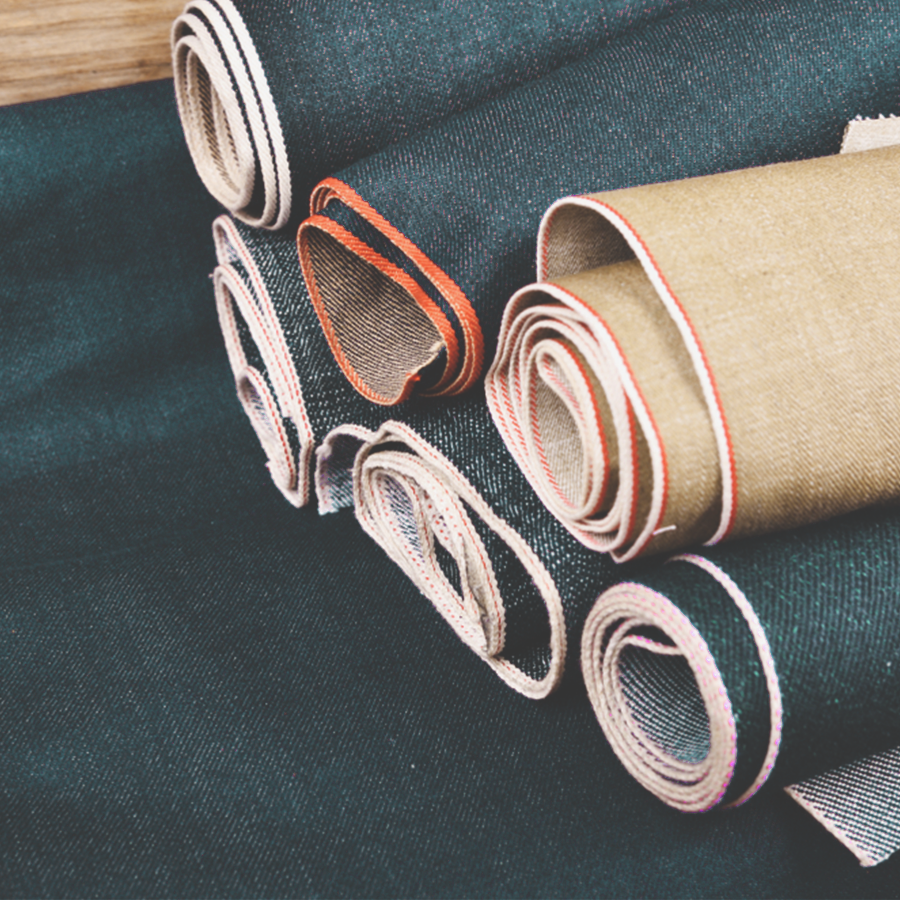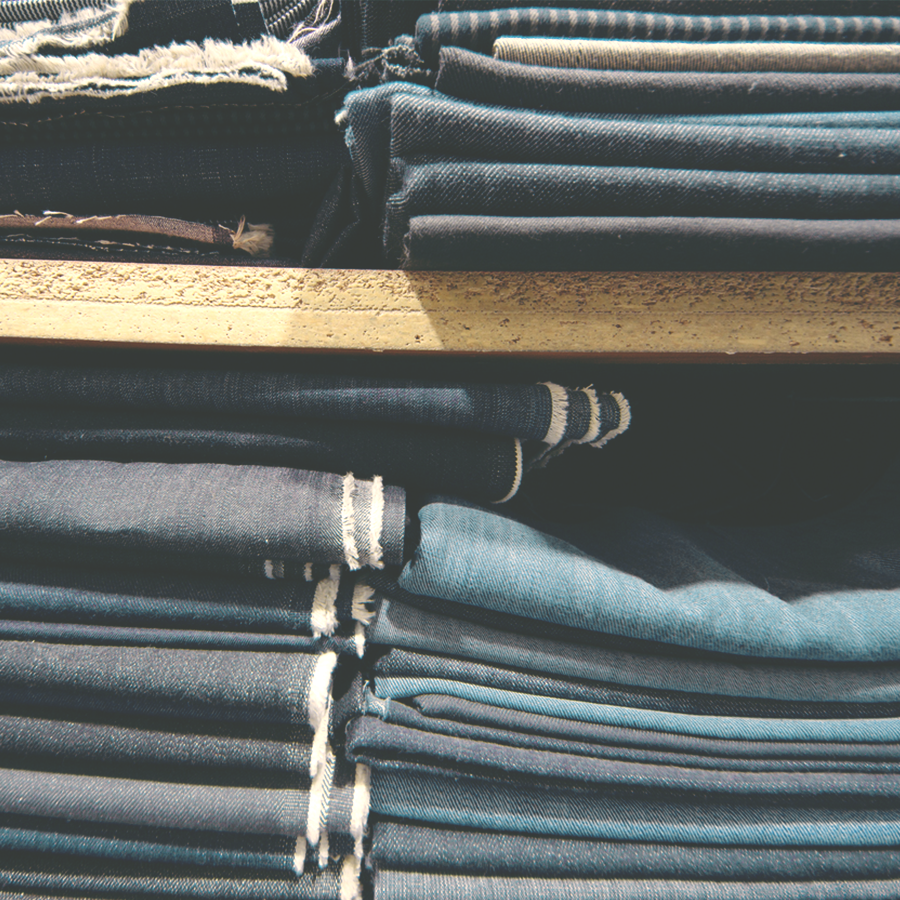 Japan Becomes the World Leader in High Quality Denim
Following the end of the second world war, Japanese youth started to become fascinated with American culture, embracing references like rock 'n' roll music and and assimilating the style of Hollywood big screen icons such as Marlon Brando and James Dean.

While the rebellious look was also making waves with the younger generation in the USA, their Japanese contemporaries found it more difficult to obtain the denim jeans that were symbolic of the style. At the time, there were no companies either producing jeans in Japan or importing them into the country.

The demand was initially met by US servicemen stationed in the country who would typically wear jeans when off duty. They began selling their pre-worn jeans to fashion conscious locals and this underground, black market approach only added to the cool, rebellious image of jeans.

It wasn't long however until demand significantly outweighed supply, and Japanese companies saw that there was a gap to fill. Initially jeans from the USA were imported, however they were too expensive for the typical younger person who wanted to buy them to afford.

The next step was to produce jeans locally. Brands such as Big John began to manufacture jeans in Japan using the same Cone Mills sourced denim as Levis did in their iconic 501s, which was imported from the USA. At the time, Japanese fabric producers were not set up to produce blue denim made with the same dying process as those in the US and their first attempts did not have the typical white inner, meaning the jeans would not fade over time.

Hailed as the birthplace of Japanese denim, one of the oldest mills in Japan, Kurabo Mills in Kojima, persevered with developing new techniques and was finally able to bring all the components together to make the first all-Japanese made pair of selvedge jeans, using Kurabo KD-8 denim, under the Big John brand in 1972.

The market exploded and pioneers such as Edwin began to experiment with different washes, releasing jeans with a pre-worn, broken in look that gave jeans their relaxed yet interesting style.

Japanese brands wanting to create the authentic Americana look began to closely replicate the original vintage American jeans from brands like Levis. As American made denim entered an era of mass production, focusing on quantity at the cost of quality, Japanese brands combined authentic, high quality production methods with an obsessive attention to detail.

This drive for perfection meant that while elsewhere in the world the general quality of denim being produced was declining, Japan-based brands quickly gained an incredible amount of knowledge and expertise around the craftsmanship involved in producing high-quality denim. Their products soon began to reflect this high level of expertise. Brands such as Evisu, who originally looked to emulate the original quality of American made Levis with an obsessive level of detail, were now able to surpass this level of quality and started to produce artisan jeans that both referenced the past and introduced fabrics and details not seen elsewhere.

By the early 2000s, Japanese selvedge denim was being noticed by the most fashion conscious wearers around the world. This coincided with, and helped to create, a renaissance period for denim. Consumers started becoming more aware of how their clothes were produced, paying attention to the quality offered by the best selvedge producers and meaning demand for Japanese made denim soon spread.

Japanese denim is now widely considered to be the best in the world and the market has come full circle. Where Japanese brands originally attempted to mimic American brands in order to be considered high quality and authentic, it is now Japanese made denim that customers worldwide aspire to own, and brands want to associate themselves with. Even brands that are not Japanese in origin take pride in offering jeans made from denim fabric that has been imported from Japan.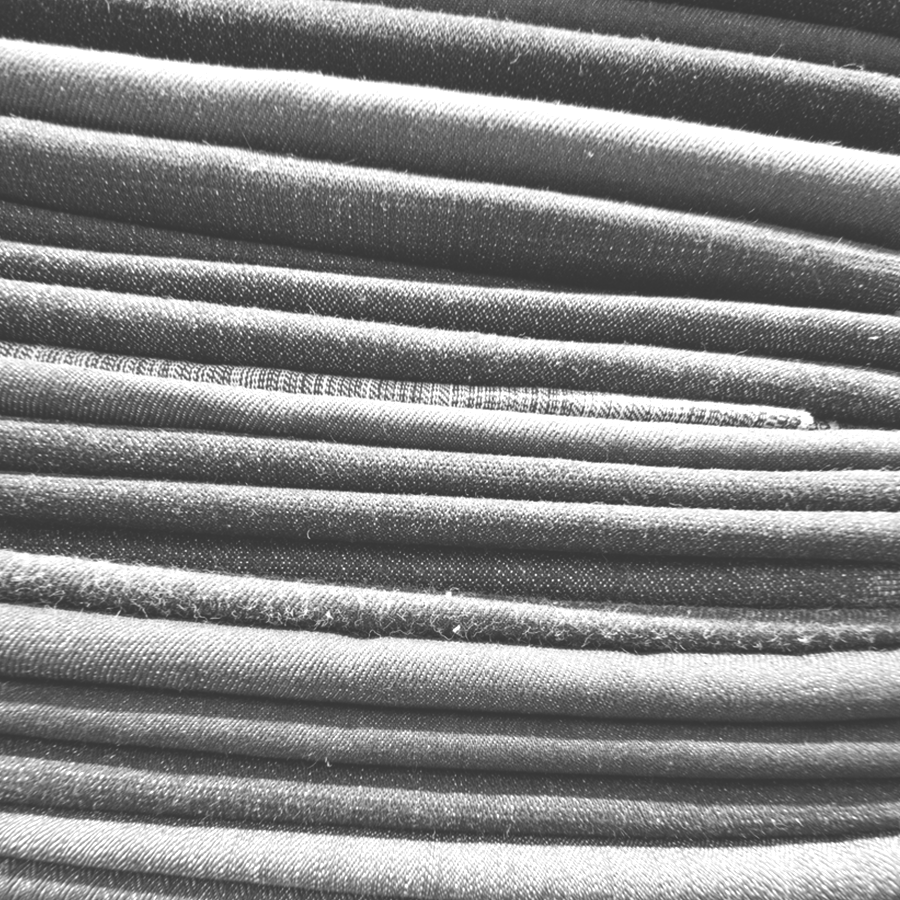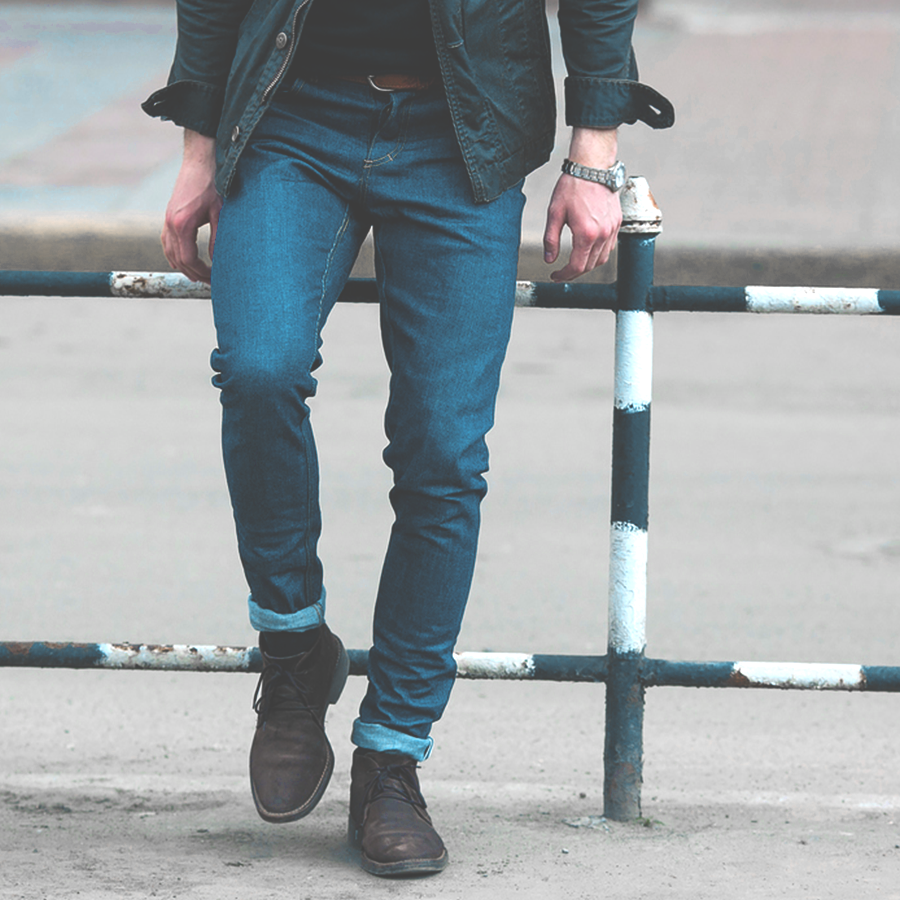 The Denim Evolution
From workwear to westerns: In the 1920s and 30s Hollywood cowboys such as John Wayne started wearing denim and the trend began to spread. Soon enough it became a fashion item.

Fast forward to the 50s and 60s where stars like James Dean and Marlon Brando made denim cool. All rebels wore denim and the kids of the time followed.

Progressing to 1970, pioneering Japanese brand Edwin Jeans developed their old wash, where the jeans were sold with an already worn in and casual look. Up to this point, denim had been sold unwashed and it was up to the wearer to gradually wear the jeans in over time.

Moving into the 1980s and denim was acid washed, stone-washed and bleached for a completely different look from the traditional selvedge pair.

Denim is now mass produced in a wide range of colours, styles and finishes; yet it still remains one of the most popular materials to wear across the globe.

A resurgence in the popularity of authentically made, high quality jeans has seen selvedge denim making its way back into mainstream consciousness and to the top of the fashion tree.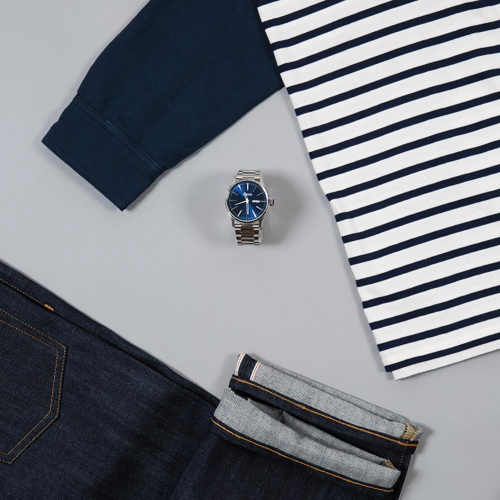 Selvedge Denim Today
The rise in vintage wear, heritage brands and classic pieces means that the demand for selvedge denim has seen an incredible resurgence in recent years.

A lot of people care about how the products they buy are made and are becoming more conscious of what genuine quality means. When it comes to buying jeans, today's customers increasingly want to buy a pair that is made from high quality selvedge denim in the authentic way.

Most selvedge denim is now produced in Japan, with the last American selvedge denim plant closing in 2017. Considered to be the best in the world, Japanese selvedge denim is produced in a number of mills in the country, the oldest of which is the Karubo factory which today supplies some of the world's top denim brands including Edwin.

Increase in demand has meant that there is now a wide choice of selvedge jeans available to consumers. From low-volume Japanese artisan brands pushing boundaries with obsessive levels of detail and craftsmanship to high street stores, there's a pair of selvedge jeans to suit all budgets and something for everyone.

A high quality pair of selvedge denim jeans is an investment. They might cost a little more than the average pair of mass produced jeans, but they can last a lifetime. When you pick up a pair of selvedge jeans you know that you're buying denim made the original way. With continued wear, over time your jeans will develop a fit and patina that is unique to you. And as any denim enthusiast will tell you, this is one of the most crucial elements in making your new pair of selvedge jeans so special.